It's hard to properly describe what the last two and a half years have been like for us in the state of Florida. The way I have tried to verbalize it to those not living here is that it's a bit of a cascading nightmare, where every outrage softly fades into the next, all the attacks and barbs aimed at marginalized communities blend together, where the worst voices of a right-wing outrage machine act as the assignment editor for our governor and the professional trolls who inhabit his communications department.
In 2020, as Ron DeSantis kept our state open for business in the throes of a once-in-a-generation pandemic, many people in our state, and across the nation, reacted with appropriate horror. But while Floridians rode each new wave of coronavirus infections ― watching our hospitals fill to the point of overflowing, all in the face of anger and consternation from the elected officials whose job was supposed to be to provide comfort and safety ― the governor only became more emboldened. While legislatures in other states met in special sessions, Republicans in Florida cowered, allowing DeSantis to run roughshod over local officials and to direct policy in the state by fiat through his use of emergency powers. An authoritarian was emerging before our eyes.
When the Florida Legislature finally did reconvene in the spring of 2021, any previous semblance of the bipartisanship the governor had once urged, and any feeling of fight in a legislative body that once prided itself on fierce independence, had vanished. What's followed has been a vicious and merciless agenda executed with a military-like precision befitting a former Navy JAG officer. As the governor became a folk hero to those on the far right, he began to apply his ambitions for national office to his policymaking here at home.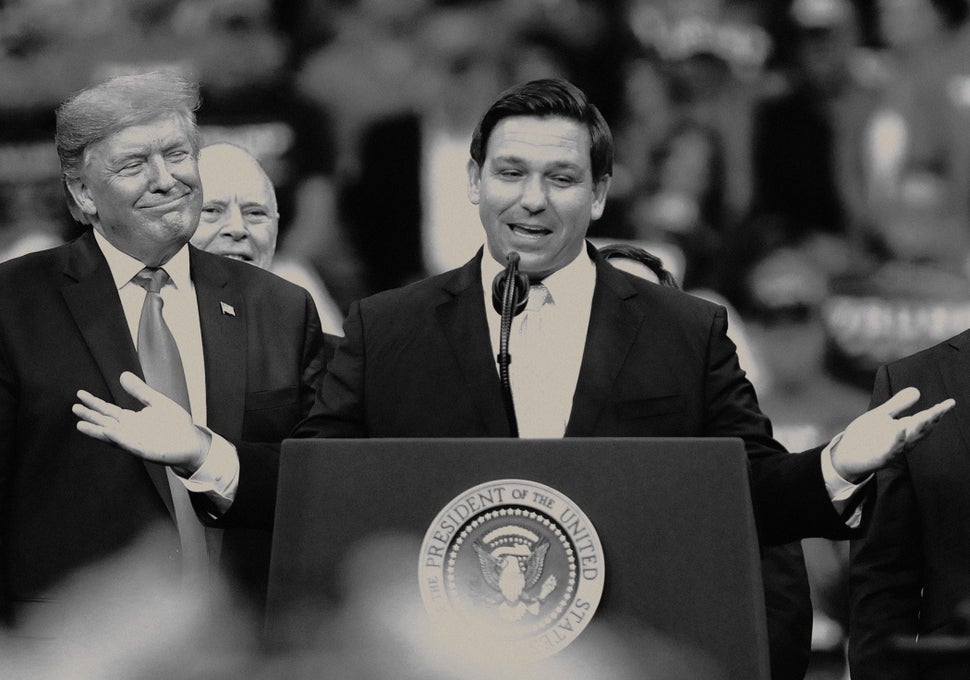 Floridians have been suffering through an affordability crisis, with the prices of housing, utilities and insurance rising. But DeSantis has remained laser-focused on stoking the culture wars, fueling white grievance for political gain while making it more difficult to vote in minority communities, putting LGTBQ+ families in the crosshairs of potential violence, and systematically limiting the right to protest. Even as he paints himself as a champion of the everyday person, he's raised taxes on consumers by over $1 billion and given billions more in tax breaks and refunds to the largest corporations. As his campaign bank account has grown, the billionaires, multinational corporations and massive special interest groups that control our political system have tightened their grip on Florida's economic future.
Throughout his time in office, DeSantis has used his political muscle to bully the Legislature into passing gerrymandered congressional maps that violate the Florida Constitution. He's relentlessly attacked and demonized immigrant communities, while working with white nationalist groups. He's mainstreamed anti-LGBTQ+ hatred in a way not seen in decades, and he's deployed an election police force to intimidate lawful voters scared of being caught up in his dragnet.
He's done all of this while elevating election deniers in his administration and in private, selecting a surgeon general steeped in anti-vaccine rhetoric who speaks to QAnon groups ― leading Florida to record the most COVID deaths among seniors since the vaccine became widely available in 2021 ― and meticulously remaking the state Supreme Court with young members of the Federalist Society who appear poised not only to uphold his 15-week abortion ban with no exceptions for rape and incest, but to end the right to privacy in the Florida Constitution that has protected reproductive rights and other privacy rights here for generations. It should come as no surprise that our state is now the epicenter of a thriving right-wing ecosystem of media personalities, hate groups and former Trump lackeys itching for a return to national power.
To understand how we got here, let's go back to Jan. 8, 2019, when Ronald Dion DeSantis took the stage to be sworn in as Florida's 46th governor. On that day, he vowed in his inaugural address to "overcome the tribalism that has dominated our politics" and to "set the interests of hard-working taxpayers as our true north." For a politician whose initial foray into electoral politics saw him aligning himself with the far-right Tea Party movement, and who claimed the Republican nomination for governor on the back of a shameless ad where his young children were instructed to "build the wall" in order to secure an endorsement from then-President Donald Trump, the change in tone was noticeable.
However, following a general election where he pivoted to the middle with a focus on environmental issues, and won by just over 32,000 votes in a state of more than 20 million people, this seemed like the correct move politically. For a few months, he even seemed to mean it. Within a week of being sworn into office, DeSantis sought to right a historical wrong when he pardoned the Groveland Four, a group of Black men who had been falsely accused of raping a white woman in 1949. Over the next few months, he would win bipartisan plaudits for pushing for and then signing a bill to allow smokable medical marijuana, before appointing the state's first chief resilience officer to develop plans to counteract the effects of sea level rise.
But buried within that inaugural speech were hints of the real Ron DeSantis, a brooding and angry autocrat whose sole focus was and always will be nursing the endless political ambitions harbored within an Ivy League-educated aspiring strongman.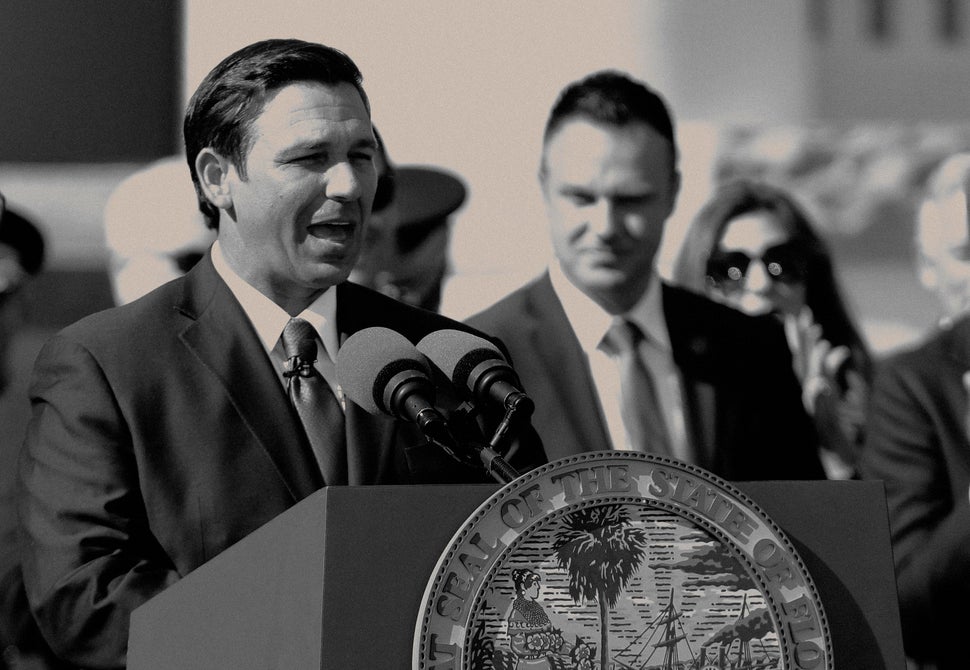 While running for Congress, DeSantis exemplified the boilerplate Tea Party politics of his time. After winning a seven-way primary for the Republican nomination in a ruby-red district on Florida's First Coast, on the backs of promises to cut wasteful spending and prodigious attacks on then-President Barack Obama, Rep. DeSantis became a founding member of the hard-right Freedom Caucus. His time in Congress would be exemplified by legislative hostage-holding on issues like the debt limit and spending packages, but aside from his gaining a reputation as an aloof loner, DeSantis' time in Washington was essentially unremarkable.
Following an aborted run for Senate in 2016, after Marco Rubio decided to run for his old seat again at the last minute, DeSantis would see Trump's election as his next springboard for higher office. The congressman became a fixture on Fox News as one of Trump's top defenders, adopting the language of a rising and increasingly angry right wing that more and more was painting those on the left not just as political opponents, but as existential threats to the country itself.
After parlaying those Fox appearances and that well-placed TV ad into the Trump endorsement he so coveted, and dispatching former Florida Republican Golden Boy Adam Putnam in the primary, DeSantis turned his attention to the 2018 fall election. Almost immediately, his campaign became embroiled in accusations of racism when he remarked that Florida should not "monkey this up" by electing his Black opponent. It also came to light that the congressman had been the admin of a racist Tea Party Facebook page, though he claimed to have been added without his knowledge.
Despite these perceived missteps and a national atmosphere favorable for Democrats, DeSantis was able to edge his way into office by playing on themes familiar to anyone who had followed the rise of Trump: populism and direct appeals to law and order. Also like Trump, DeSantis had the strong support of the white nationalist group the Proud Boys, who provided vocal support of the then-candidate at rallies and on social media. Following the general election, which led to statewide recounts in the races for Senate, governor and agriculture commissioner, the Stop the Steal movement would be born, with members of the far right parading false claims that Democrats were trying to steal the election in Broward County. They were never condemned by DeSantis, and they were cheered on by Republican elected officials and party apparatchiks throughout the state.
Those protests should have been a warning sign for what was to come.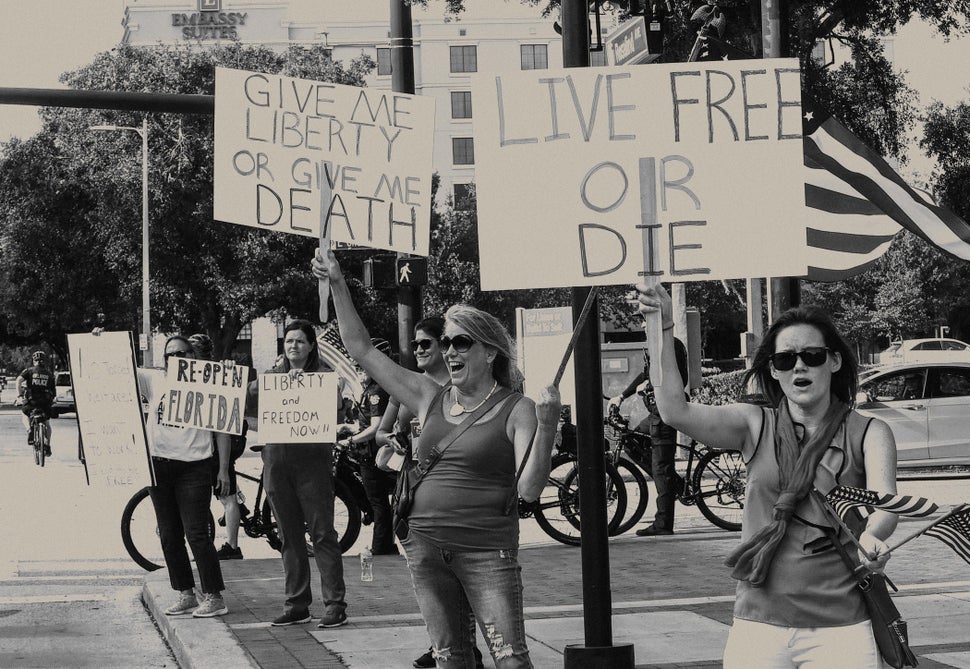 Given what has happened since in the "free" state of Florida, one line from DeSantis' speech on Jan. 8, 2019, stands out in particular.
"If a local official is neglectful of required duties, I will remove the official."
It was a promise the new governor would quickly fulfill. On Jan. 18, after just 10 days in office, DeSantis suspended Palm Beach County Supervisor of Elections Susan Bucher from office, and accepted the resignation of Broward County Supervisor of Elections Brenda Snipes, who had been suspended by outgoing Gov. Rick Scott. It was a remarkable flexing of political muscle, as the new governor removed from office three officials, none of whom had been accused of crimes, within his first two weeks in office.
Shortly thereafter, DeSantis, with the help of a compliant Republican-controlled legislature, would make his first foray into undermining the will of the state electorate. In 2018, over 60% of Florida voters had supported a constitutional amendment to restore the voting rights of felons who had completed the terms of their sentence and had not been convicted of murder or sexual offenses. Known as Amendment 4, this people-powered movement sought to end the Jim Crow practice of disenfranchising returning citizens. It should have meant the restoration of voting rights to more than 1.4 million Floridians, many of whom were Black.
Republicans, who had been overwhelmingly opposed to this change, set about meddling in the amendment's implementation. What eventually emerged was a bill that required that all terms of a sentence, including outstanding fines and fees, must be satisfied in order for a person's voting rights to be restored. This proved an unworkable system from the start. In a state with no central database keeping track of who committed these offenses, and records dating back decades, or physical case files buried throughout offices or lost altogether over the years, many saw this as a modern-day poll tax, with a federal judge in 2020 calling it an "administrative train wreck" and a "pay-to-vote system."
What DeSantis has accomplished in four short years in Florida has been carried out with ruthless efficiency. While Trump was often distracted by his own ego-driven battles, and lacked commitment to the execution of many of his policies, Florida's governor has no such issues. Backed by a coterie of cheerleaders in right-wing media, hundreds of millions of dollars in billionaire funding, and the growing national profile that goes along with it, DeSantis has his sights firmly set on the White House in 2024. The threat he poses should not be taken lightly. It is unique to our moment.
For a model of what is coming to the country as a whole, look no further than the past decade in Hungary and the rise of autocrat Viktor Orbán. Formerly a thriving democracy, Hungary has backslid badly as the ruling Fidesz Party has tightened control over the media, the courts and the electoral system, a playbook we have seen executed to perfection in Florida, a future the right is salivating for here in America. (The infamous "Don't Say Gay" law was modeled on Hungarian legislation.) Under a DeSantis presidency, we could expect the free press to be replaced by propagandist stenographers; the rights of minority and marginalized communities to be constantly under attack; the idea of fair elections to be subsumed in right-wing fever dreams of voting systems designed to produce an expected outcome; the courts to be nothing more than rubber stamps for dangerous agendas not based on the rule of law.
In January 2019, Ron DeSantis told Floridians he would not be a "rudderless vessel in this endeavor" during his time in office. He has not broken that promise. After his recent removal of the duly elected state attorney in Hillsborough County simply for expressing political disagreement with the governor, it is evident what he views as the correct punishment for his perceived enemies.
"A generation of botched elections is enough," DeSantis said that day, and it's clear now what he meant. The only botched elections are the ones not won by the far right, and the rising strongman who seeks to lead them.