If you believe every Floridian should be able to access respectful, quality, and affordable reproductive health care, then this simple action in support of medication abortion is for you. Just weeks ago, the Food and Drug Administration (FDA) lifted outdated restrictions on medication abortion, allowing pharmacies to dispense these necessary medications, and the Justice Department ruled that the postal service is allowed to deliver them nationwide. This is excellent news!
But Gov. Ron DeSantis has blocked access in Florida. Just days after the FDA announcement, he sent an 'ignore the federal government' message to medical providers telling them the FDA's decision on abortion pills does not apply here. "Willfully violating… could result in criminal penalties," he wrote.
If Florida's leaders won't stand up for our reproductive freedom, we must look to our national leaders and institutions to take action.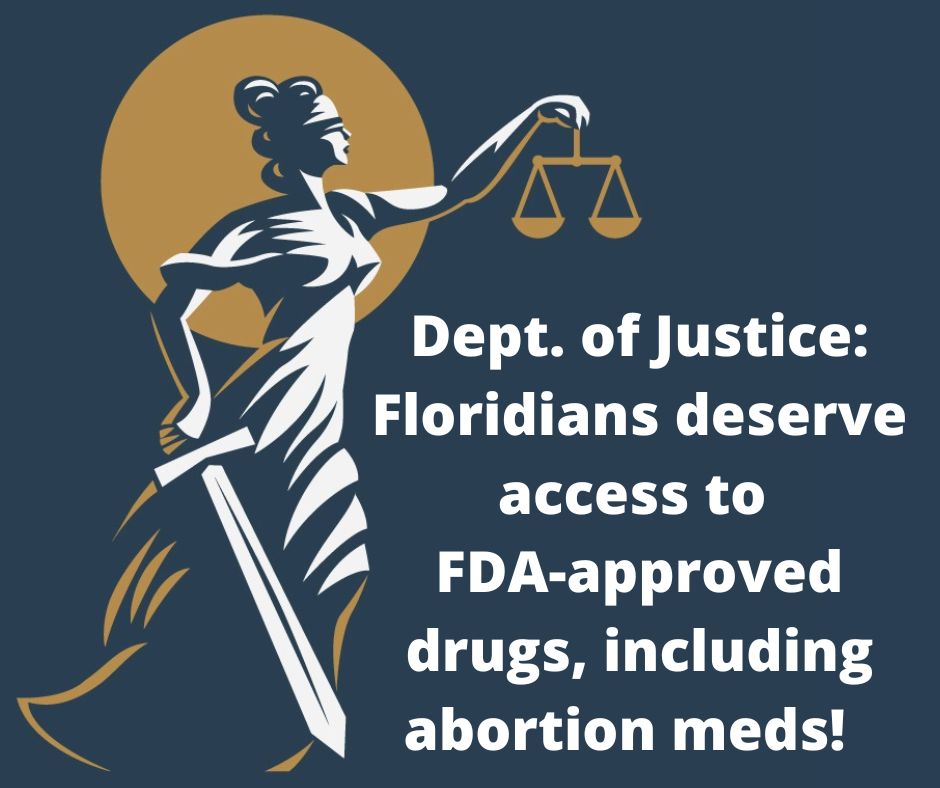 Stand with us! Send a message to the U.S. Department of Justice, asking them to challenge Florida's law that requires abortion pills to be distributed in-person by a physician – not by a pharmacist or via telehealth.
Gov. DeSantis cannot be allowed to preempt what health and medical experts at the FDA have done. Congress has given the FDA authority to regulate the safety of drugs, and Florida politicians should not be able to override that.
When federal and state law is in conflict, federal law prevails. The Department of Justice must use its power to challenge all state-level bans and restrictions that violate federal law.
With the overturning of Roe v. Wade, we must use every method at our disposal to restore abortion access. Send a message to the U.S. Department of Justice: Challenge Florida abortion restrictions that violate federal law.
People deserve compassionate, accessible abortion care but until that's possible, we will continue our work to stop any abortion restrictions pushed by Gov. DeSantis and his legislative allies. Thank you for standing with us in this fight.