As Hurricane Ian was bearing down on Florida, the sixth private insurance company this year was declared insolvent in our state. Florida's property insurance market is in crisis. Since Governor Ron DeSantis took office, property insurance premiums in the state have increased by 112.8%. Property insurance rates in our state are the highest in the nation, with Floridians now paying an average of $4,231 per year, more than three times the national average. With privately insured losses from Hurricane Ian estimated to be as high as $67 billion, rates are expected to once again skyrocket across the state, with Republican Senator Jeff Brandes bluntly stating, "You're going to price the middle class out of residential homeownership." 
To highlight the coming increase in rates for Floridians, DeSantis Watch has released a new video, "Ron's Insurance Crisis," featuring local news stories from throughout the state showing the impact this will have for homeowners.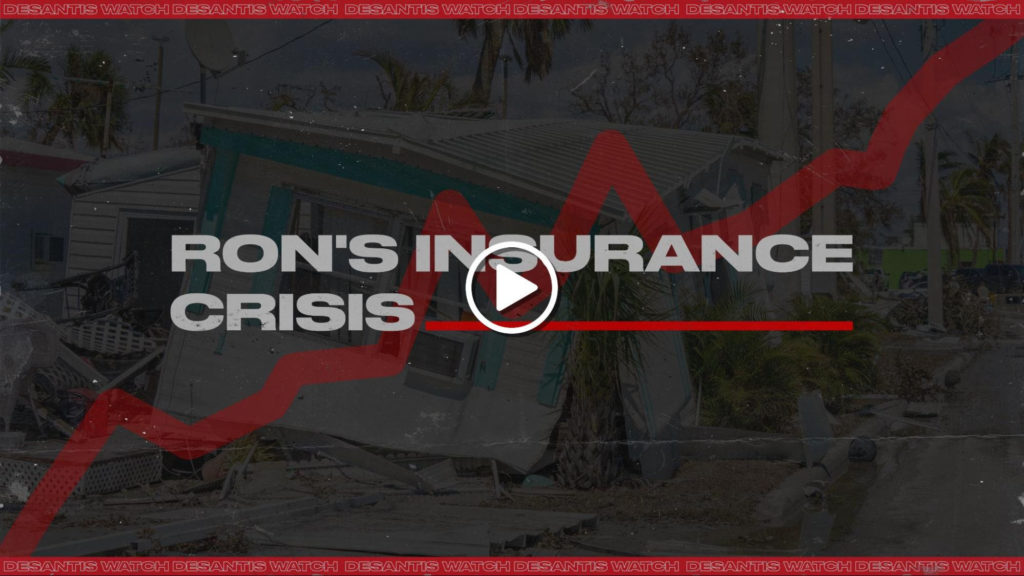 You can view the video here.
Floridians continue to face a housing affordability crisis, with rents, property insurance rates, and utility bills all increasing under Governor Ron DeSantis. As more and more workers and seniors on fixed incomes are priced out of their homes, Governor DeSantis has responded by permanently slashing the Sadowski Affordable Housing Trust Fund in half and giving the insurance industry a $2 billion bailout that does nothing to lower rates for homeowners.
"In the wake of Hurricane Ian, Florida's already cratering property insurance market is now on the verge of collapse and rates are set to skyrocket again," said DeSantis Watch Communications Director Anders Croy. "As Florida's housing affordability crisis has grown, the Governor has responded by giving bailouts to his corporate donors in the insurance industry and slashing funding for affordable housing for workers and seniors throughout the state. Floridians need real relief that brings down the cost of property insurance, not more of Ron DeSantis' failure to lead that is pricing the middle class out of their homes."
###
DeSantis Watch is a project of the Florida Communications and Research Hub dedicated to shining a spotlight on the Governor's failure to improve the lives of the people of our state. Together, we are building a grassroots movement to fight back and defeat Ron DeSantis to ensure we all have the freedom to live our own version of the American Dream.
Paid political advertisement paid for by Progress Florida, 200 2nd Ave. South #808 St. Petersburg, FL 33701, independently of any candidate. This message was not approved by any candidate