TALLAHASSEE — Under Governor Ron DeSantis, Florida is the least affordable state in the nation when it comes to housing. The people of our state are taking notice, as recent polling commissioned by Progress Florida and Florida Watch found 74% of Floridians support "declaring a state of emergency for housing affordability to cap rent hikes at 10 percent per year." To highlight this ongoing housing affordability crisis, DeSantis Watch has launched a new video, "Ron's Housing State of Emergency," featuring news stories and testimony from Floridians throughout the state suffering from rent gouging the Governor refuses to address.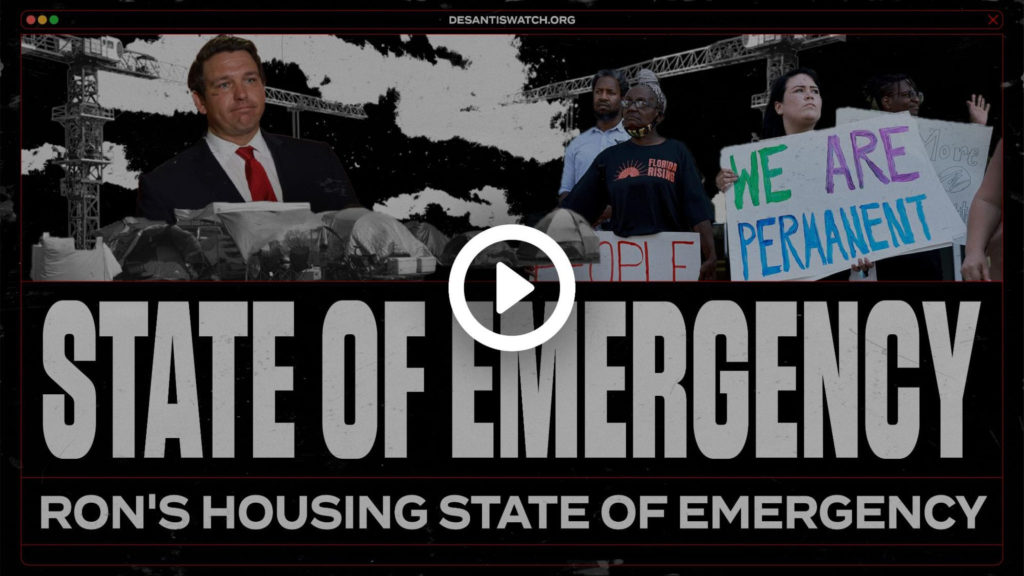 You can view the video here
Since last December, Democrats in Florida have been asking for the Governor to declare a housing state of emergency in the state and to instruct Attorney General Ashley Moody to apply the price gouging statute activated under that declaration to any rent hike greater than 10%. While rents have continued to climb and the property insurance market continues to collapse leading to massive rate hikes for homeowners, Governor DeSantis has raked in more than 25% of his campaign contributions from the real estate and finance industries fueling this crisis.
"While Ron DeSantis engages in cruel political stunts, it is everyday Floridians who continue to suffer while he ignores the housing affordability crisis in our state," said DeSantis Watch Constituencies Director Natasha Sutherland. "This is a state of emergency for the single mom choosing between rent and school supplies for her child, for the seniors deciding between a roof over their head or the life-saving medication they need, and for the thousands of families and young people being crushed by unreasonable rent gouging throughout Florida. It is time for real action to protect the hardworking people of our state, but all Ron DeSantis cares about are the fat cat developers and billionaires who fund his political ambitions while Floridians struggle to stay in their homes."
###
DeSantis Watch is a project of the Florida Communications and Research Hub dedicated to shining a spotlight on the Governor's failure to improve the lives of the people of our state. Together, we are building a grassroots movement to fight back and defeat Ron DeSantis to ensure we all have the freedom to live our own version of the American Dream.Floridians can follow along with DeSantis Watch on social media on Twitter, Facebook, Instagram and YouTube.
PAID POLITICAL ADVERTISEMENT PAID FOR BY FLORIDA WATCH PC, PO BOX 61784, JACKSONVILLE, FL 32236, INDEPENDENTLY OF ANY CANDIDATE. NOT APPROVED BY ANY CANDIDATE.