With a hostile legal landscape, privacy concerns, and extensive misinformation online, this can be a confusing and scary time for someone seeking an abortion.
That's why we wanted to share the news with you about a game-changing tool: Charley the abortion chatbot. Charley is designed by reproductive health experts to help abortion seekers in Florida and all over the country get private, personalized information about how to access an abortion.
Understanding the differences between abortion pills and a procedure
Getting funds for abortion care or travel
Locating a legitimate provider, in state, or out-of-state
Accessing care as a minor when parental involvement isn't possible
Twenty-four hours a day, seven days a week, in English or Spanish, Charley's got your back. Everything you share will remain private, secure, and anonymous. Check it out for yourself.
Abortion may soon be banned in Florida after six weeks, before many people even realize they're pregnant. Meanwhile, Gov. DeSantis just signed a bill giving $25 million a year of our tax dollars to anti-abortion pregnancy centers that offer inaccurate information and no real medical support.We're asking you to share the news about Charley because now more than ever, quick access to accurate information about abortion care is critical.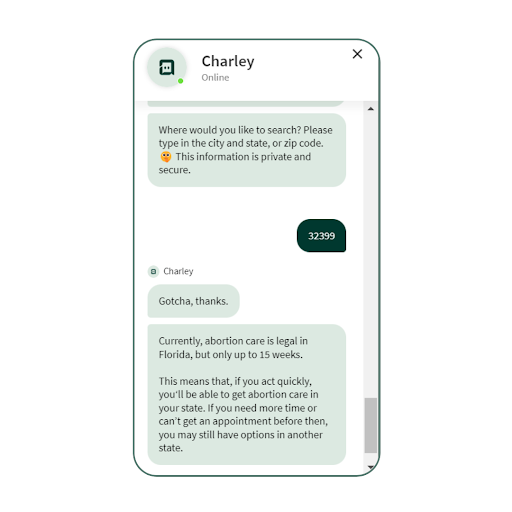 Charley can be found at the Floridians for Reproductive Freedom coalition's website: when you go to floridareprofreedom.org Charley will meet you there.
Now, this is where you come in. By helping us amplify this resource using the sample text below on social media, you can make a significant impact for people seeking an abortion. You and Charley may even be the reason someone learns they have options.
In the face of relentless attacks on our privacy and bodily autonomy, we're here to innovate, here to support our fellow Floridians seeking abortions, and we're here to stay.

Sample social media post: Need help getting an abortion? Meet @ChatwithCharley, the Chatbot that can privately give you personalized abortion options–no matter where you live.
Whether you need pills, a procedure, or to coordinate care in another state, Charley can help you understand your options. Your abortion access bestie has officially entered the chat. #ChatWithCharley ChatWithCharley.org
Click here to download the animation to post.