"Work together to safeguard the manatees and the places they call home. Be the friend they need." – Jimmy Buffett, Musician, Save The Manatee Club co-founder
Florida's manatees are in serious trouble, and they need your help.
Water pollution and overdevelopment are pushing this iconic species to the brink of extinction. Adding to the manatees' peril, in 2017 the Trump Administration defied the environmental and scientific community by downgrading their status from "endangered" to "threatened" and reduced the scope of, and resources dedicated to, their protection.
But we now have a chance to right this wrong. Earlier this year Progress Florida joined other advocacy organizations in calling on the federal government to revisit the manatees' status, and the U.S. Fish & Wildlife Service (USFWS) is now looking at restoring their endangered status.
Sign our petition urging the USFWS to protect Florida's beloved manatees by upgrading their status to endangered.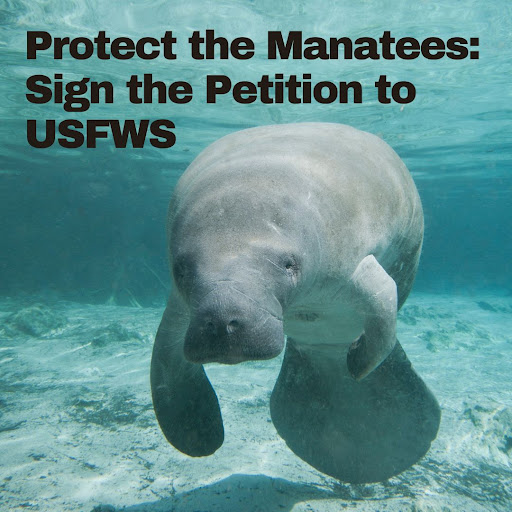 The manatee population was already vulnerable when the Trump administration stripped away their endangered protections, but since then the situation has escalated into a full-blown crisis, pushing these magnificent creatures closer to extinction. In just the past two years, an estimated 20% of Florida's manatee population has been lost.
Chronic pollution has contributed to massive algal blooms in Florida's waterways, killing off large swaths of the seagrass manatees depend on for survival. Since 2009 the Indian River Lagoon, a prime manatee wintering habitat, has lost a staggering 75% of its seagrass. There is no time to waste in bolstering protections for our manatees.
Add your name to the petition calling on the USFWS to protect the manatees by restoring their endangered status and full protections under the Endangered Species Act.
Manatees were among the first species the government classified as endangered in 1967, and it helped bolster their population from just a few hundred to several thousand. But unfortunately, manatees still face an uncertain future and numerous threats to their survival.
Thank you for standing with us to protect Florida's beloved manatees before it's too late.