Today is Inauguration Day in Florida where Governor Ron DeSantis, fresh off raising millions of dollars for the ceremony and surrounding events from some of the largest corporate special interests in the state and from high-dollar donors around the country, will be sworn in for a second term.
To hold this Governor accountable, DeSantis Watch has released "The Real Ron" as a digital video tracing his rise from obscure co-founder of the so-called House Freedom Caucus through his shameless pandering to Donald Trump to his current record of harsh and unyielding attacks on the freedoms of everyday Floridians.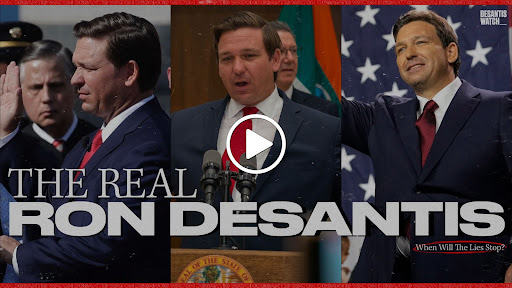 Over the last four years, DeSantis has been defined by his far-right positions and divisive policy agenda that does the bidding of his ultra-wealthy donors and the large corporations who have lined his campaign coffers at the expense of the people he was elected to serve. Far from the populist warrior Ron tries so hard to portray himself as, the story of Florida's Governor is that of a relentless political climber whose public persona has evolved with the shifting tides of opinion on the extreme right over the last decade and who used false fealty to former President Donald Trump to secure his spot on the national stage.
Additionally, DeSantis Watch has also updated our website at DeSantisWatch.org where we continue to host digital videos and content for the public, to highlight how out of step Ron's policy positions are to everyday people, to track his political travel, and to host a one-stop-shop database through our Influence Watch to track the Governor's big money contributors.
"There is no more craven political opportunist or threat to our freedoms in all of America than Ron DeSantis," said DeSantis Watch Communications Director Anders Croy. "As Floridians continue to suffer under Ron's affordability crisis and from the constant stream of attacks he has launched on communities throughout our state, today's inauguration ceremony is the perfect time to continue holding him accountable for his failures as a leader. While Ron is poised to put his political ambitions first and leave Florida behind, we must continue to highlight his subservience to the ultra-wealthy and giant corporate donors who fund his campaigns and are the real constituents he will always put first."
###
DeSantis Watch is a project of the Florida Communications and Research Hub dedicated to shining a spotlight on the Governor's divisive policies and relentless political ambition. Together, we are building a grassroots movement to fight back against Ron DeSantis to ensure we all have the freedom to live our own version of the American Dream.
You can follow along with DeSantis Watch on social media on Twitter, Facebook, Instagram and YouTube.