TALLAHASSEE — Today, DeSantis Watch, a joint effort of Florida Watch and Progress Florida, has launched a new website imprint branded as Influence Watch to help the public hold Governor Ron DeSantis accountable. The imprint can be found by accessing the existing DeSantisWatch.org website and navigating from the home bar.
Throughout his time as a candidate and in the Governor's mansion, Ron DeSantis has raised unprecedented sums of campaign money from out of state billionaires, multinational corporations, and special interest groups in order to fuel his political ambitions. Through Influence Watch, DeSantis Watch has analyzed nearly $250 million raised by the Governor into his Friends of Ron DeSantis Political Committee since he declared his campaign in 2018, as well as donations to the Republican Party of Florida since January 1, 2019, days before he was sworn into office. This campaign finance analysis reviewed donations of $5,000 or more. In order to show the full scope of money being given, donors who have given multiple times or through different entities have been bundled to create aggregate totals. For example, developer Mark Walsh has made nineteen separate donations through multiple entities totalling $1,100,000. These donations have been labeled as Mark Walsh & Companies.
Through Ron's Donor Database, members of the public will have access to a fully searchable database of the Governor's donors with the ability to filter by entity, industry, date, and whether the money went to Friends of Ron DeSantis or the Republican Party of Florida.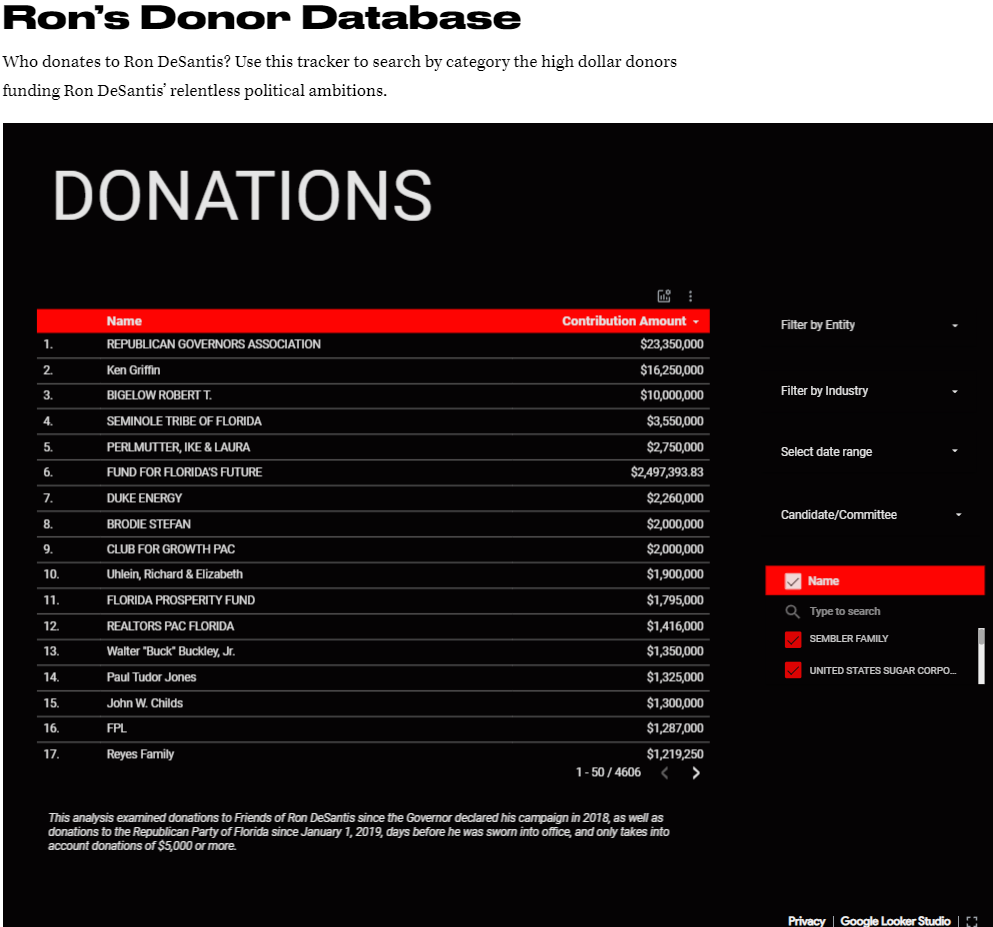 On Ron's Big Money Map, members of the public can use a fully interactive map that tracks where donors to the DeSantis campaign are giving from and allows the user to visualize what regions by aggregating the donations by city are giving the most.
With Ron's Special Interest Breakdown, members of the public are provided with an interactive pie chart tracking the top 20 industries and special interest categories contributing to the Governor.
This project is ongoing and these resources will be updated as campaign finance reports become publicly available.
"We are excited to launch Influence Watch in order for the public to be able to gain a greater understanding of the billionaires, corporations, and powerful special interests who are fueling the political ambitions of Ron DeSantis," said DeSantis Watch Communications Director Anders Croy. "As Floridians continue to suffer under an affordability crisis with skyrocketing rents, a collapsing property insurance market, and utility bills that continue to rise, it is more important than ever to be able to scrutinize who is giving money to the Governor and what they may be hoping to get in return. We believe Influence Watch provides an unprecedented and insightful resource to help people visualize and research how big money donations are impacting the policies pushed by Ron DeSantis."
###
DeSantis Watch is a project of the Florida Communications and Research Hub dedicated to shining a spotlight on the Governor's failure to improve the lives of the people of our state. Together, we are building a grassroots movement to fight back and defeat Ron DeSantis to ensure we all have the freedom to live our own version of the American Dream.
Floridians can follow along with DeSantis Watch on social media on Twitter, Facebook, Instagram and YouTube.
Paid political advertisement paid for by Progress Florida, 200 2nd Ave. South #808 St. Petersburg, FL 33701, independently of any candidate. This message was not approved by any candidate