From the civil rights movement to women's suffrage, from marriage equality to combating climate change, every societal advancement in modern history has strong ties to student activism on college campuses. Gov. Ron DeSantis wants to end that.
Earlier this year, DeSantis signed into law a bill that prohibits the use of state or federal funds by universities to advocate for diversity, equity, and inclusion (DEI) programs or allow political or social activism. At a recent Board of Governors' meeting, a rule was proposed that would make this policy even worse. Free speech and civic learning at our public universities are in immediate jeopardy and we have one week to express our opposition.
You can see the proposed rule for yourself: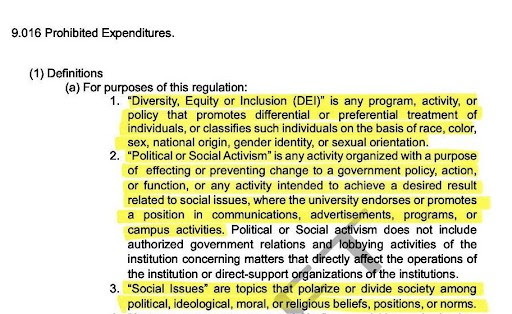 The curtailing of DEI and "political or social activism" would be devastating to free speech, diversity, and civic participation on college campuses. This rule could strip funding and ultimately eliminate organizations and programming centered around LGBTQ+ equality, Black sororities and fraternities, campus Women's Centers, campaigns against sexual violence, environmental groups, or the university itself from expressing a stance on social issues.
To make matters worse, a last minute amendment proposes the elimination of Sociology as a general education class.
The Board of Governors (BOG) is accepting public comments now until Thursday, November 23rd at midnight.
Urge the Board of Governors to REJECT this broad rulemaking that infringes on the freedom of speech for students and removes critical curriculum.
Florida is already facing a mass teacher exodus and is making headlines for leading the nation in book bans. Our college campuses should be valuable platforms for the growth and inspiration of diverse student bodies, not the latest political battleground for an extremist agenda.
Tell the Board of Governors that it is their duty to ensure fair and equal access to higher education for all students therefore, they must oppose these anti-freedom rules.
Thank you for standing up for students, educators, and freedom.