"I'm a registered Republican, former local elected official and among the nearly 25% of American women who have made the personal decision to end a pregnancy." – Carol Whitmore, Tampa Bay Times
Abortion is currently banned in Florida after 15 weeks of pregnancy, and depending on an upcoming court ruling, it could soon be banned after six weeks – before many people even realize they are pregnant.
The overwhelming majority of Floridians think we should all have the freedom to make our own personal health care decisions without interference from politicians. That's why we're working with the Floridians Protecting Freedom (FPF) campaign to get #AbortionOnTheBallot in 2024.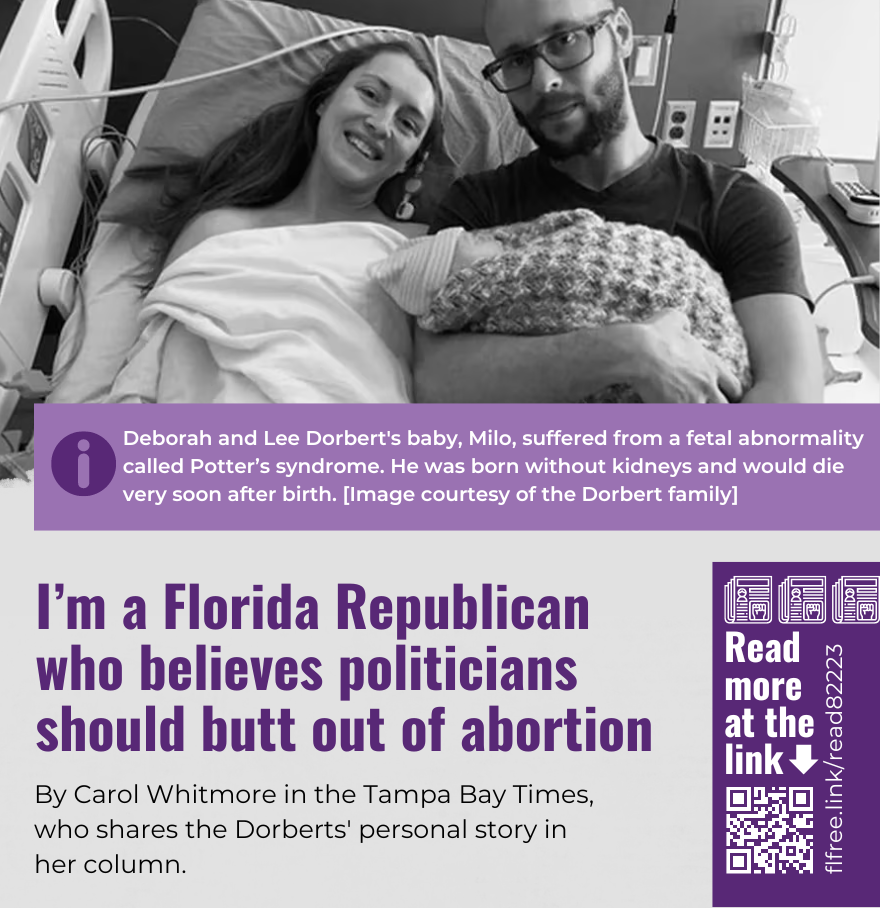 We know you are behind this effort but we want to amplify this powerful article written by a Republican former elected official, sharing a heartbreaking story that makes a strong case for ALL Floridians to unite behind getting politicians out of our personal medical decisions.
We are asking you to share this article with friends, family, and especially those who might be on the fence about stopping the relentless attacks on our freedom to control our own bodies and lives in Florida. In addition to sharing the article, be sure to ask folks to sign the petition to help get #AbortionOnTheBallot.
Because Florida requires a 60% supermajority of voters to approve a constitutional amendment, it is imperative to engage as many people as possible through bold conversations, even where we wouldn't expect to have them. Sharing this article is a way for each of us to get folks engaged in this campaign who might not otherwise, and for whom it may be personal.
As storyteller Rene Bracey Sherman reminds us, everyone loves someone who had an abortion. Thank you for inviting others to fight alongside us to ensure abortion is on Florida's ballot in 2024, and ultimately, that we win.

P.S. – Do you know someone supportive of this campaign who has a unique perspective? Maybe you are a nontraditional supporter who recognizes that regardless of, or because of, your political ideals, faith, profession, or personal experiences, that abortion is a decision best left to a patient and those they choose to involve. If yes, email info@progressflorida.org and we will reach out.
Paid political advertisement provided in-kind by Progress Florida, 200 2nd Ave South ste. 808, St. Petersburg, FL 33701